Screenflow 4 (I'm using 4.0.2 version to be precise) lets you export your screencast to mp4 format which you can upload to youtube and may be to other sites. The export options appeared little confusing initially. After doing some research here is what I decided to use: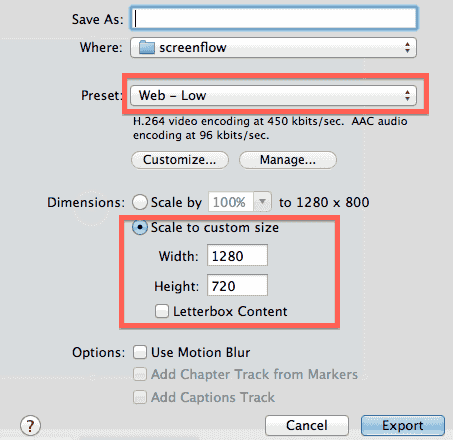 Preset
As per this thread about export options on Screenflow support website
Web-High: This is the default export option, which encodes using the H.264 codec, which balances the demands of image quality and file size.
Web-Low: This is an export option similar to Web – High, but formatted for a low bandwidth. It plays more smoothly on slow Internet connections but the image quality is not as good as Web – High.
I decided to use the Web-Low option for two reasons. Firstly it produced the videos much smaller as compared for Web-High option (almost half). Secondly it will play video smoothly on low bandwidth sites.
Dimensions
For dimension first I tried to use 1280×800 which had some youtube upload issues. The uploaded video was automatically padded by youtube on left and right side. YouTube prefers 16:9 aspect ratio. Then I changed the dimensions to custom size (1280×720). It worked nicely for me.