Facebook username for vanity url is the name you get for your page which appears after "https://www.facebook.com/". Having a username for your page makes it easier for people to remember your page and it looks nicer also as compared to a long url with some integer id in it.
When a facebook page is created it gets a url of the form /pages/PageName/268233236625987. To get username for your page, you need to visit facebook username page. But initially facebook does not let you choose a username for your page and says the page is not eligible for a username. When I tried to create username for a newly created facebook page, I got the message as shown blow: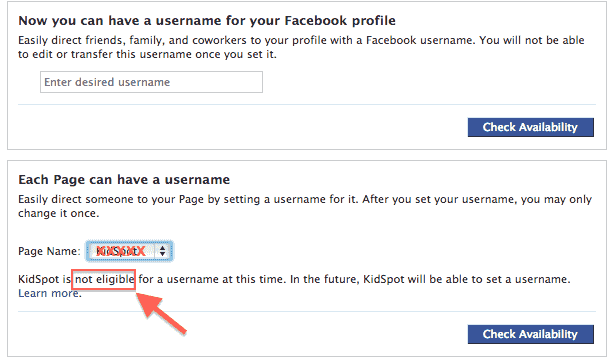 To get a username for your page you need to keep visiting the facebook username and see if your page is eligible. There is no clear criteria for this but I believe after some activities and likes facebook turns on the eligibility. For me after approximately 25 likes and some activities on the page I was able to see eligibility turned on. Here is how it appears: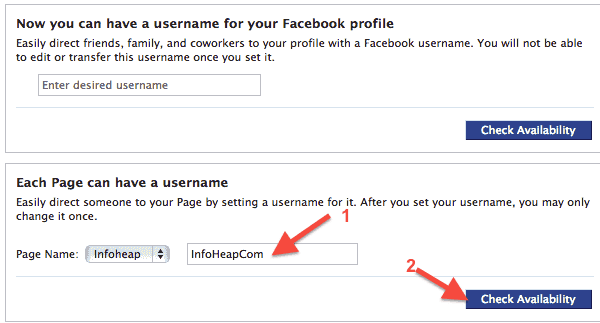 Next step is to type a page name and check for availability. Here are some guidelines you should follow:
Try for couple of names and find few names which are available. Then pick the best one. The reason is once you set it, you can't change it later.
Keep a meaningful name which resembles your site name or brand name.
You should make sure the username does not conflict with someone's trademark.
Once you have finalized on a username and it is available type it and click on Check availability. You will be asked for final confirmation as shown below: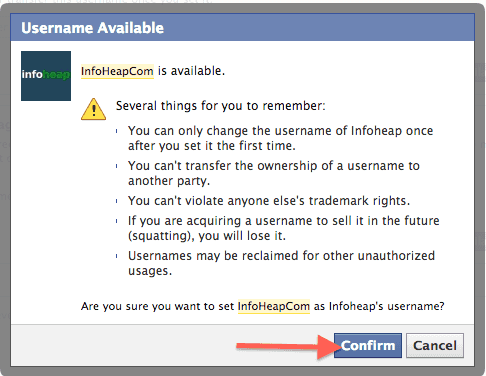 Click on "Confirm" and its done! You can now access your page at http://www.facebook.com/YouUserName. Please note that once you click on "Confirm" the username for your page will be set permanently. So you may want to double check suitability of the username before clicking "Confirm".