Mac lets you convert text to speech and play it. It can be done in many applications (Chrome, Firefox and other browsers, textedit, etc.) by highlighting the text and right clicking on it and  then clicking Speech -> Start Speaking as shown below for chrome browser.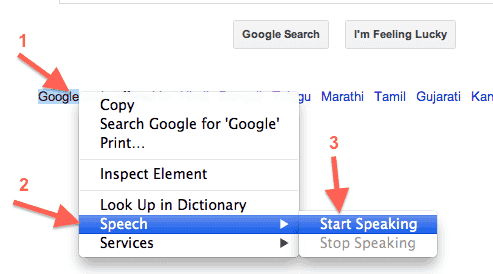 This uses the default system voice set for text-to-speech in Mac. Here is how you can change the default system voice on Mac (OS used for the article is Lion OS X 10.7.5):
Open system preference and look for speech option link as shown below:

Click speech and then click on Text to Speech tab as shown below:

You can play the sample voice selected using the play button. To change the System voice, click on the select dropdown as shown below:

To add more voices to this list, you can click customize and select the voice you want to add. Some of these voices may have to be downloaded. e.g. To download Indian voice select as "English (India)" -> Sangeeta as shown below.
In this case since Indian Voice Sangeeta is not there already on the system, it will get downloaded when you click ok and once downloaded it can be selected as default system voice.
Here is the video version of this tutorial: